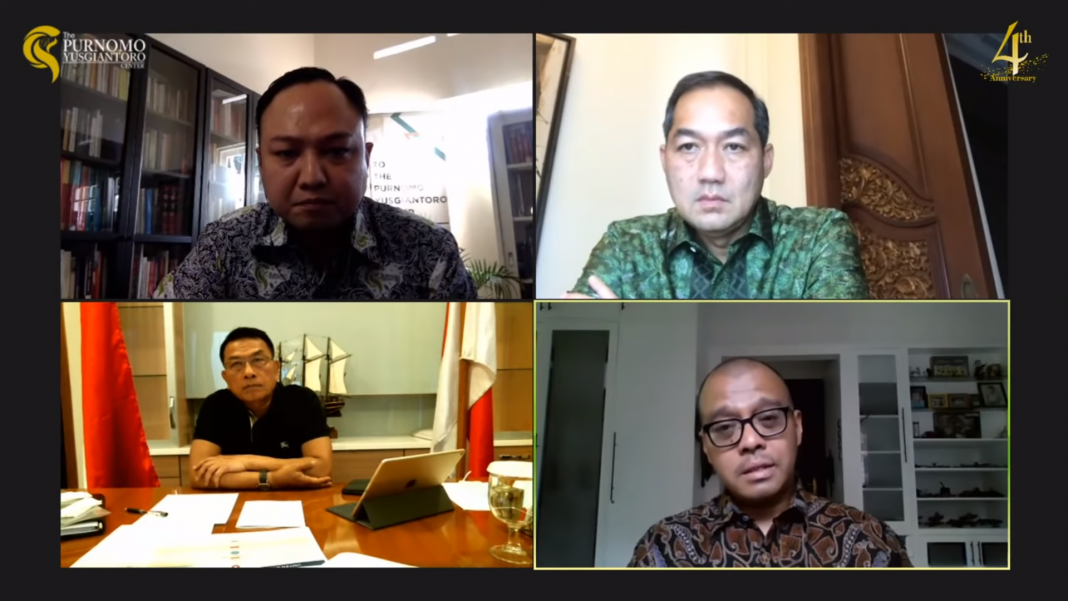 Figure 1. (Clockwise, from upper left) webinar moderator (Alexander Wibowo) and webinar speakers (Muhammad Lutfi, Andi Widjajanto and Moeldoko)
The Purnomo Yusgiantoro Center (PYC) has conducted a series of webinar this month to commemorate its 4th anniversary. The second webinar was live-streamed through the official PYC's YouTube channel on June 20th, 2020 at 13.00-15.00 WIB, taking on the theme "Geopolitics of Energy in the South China Sea: The Power of Diplomacy". The invited speakers were Jenderal TNI (Purn) Dr. Moeldoko (Chief Commander of the Indonesian Military (TNI) in 2013-2014 and Deputy Governor of National Resilience Institute (Lemhannas) in 2011-2013), Muhammad Lutfi (Minister of Trade in 2014 and Indonesia's Ambassador to Japan and the Federative State of Micronesia in 2010-2013), and Andi Widjajanto, Ph.D (Lecturer at Universitas Indonesia and Cabinet Secretary in 2014-2015). The discussion was moderated by Alexander Wibowo, J.S.D. (PYC Supervisory Board and Lecturer at Universitas Pelita Harapan). 
The webinar was started with the announcement of the winners of PYC's 4th Anniversary Paper Competition 2020 and the relaunching of an updated website (https://www.purnomoyusgiantorocenter.org) by the PYC Chairperson, Filda Yusgiantoro, Ph.D. The webinar was officially opened by Prof. Purnomo Yusgiantoro, Ph.D. (Founder of PYC and Pioneer of the Indonesia Defence University) alluding briefly on the current geopolitical condition in the South China Sea.
Moeldoko started the webinar discussion by emphasizing his views based on his experience and knowledge as a former TNI Chief Commander and not the current Chief of Presidential Staff. He reconstructed the history of World War II and linked it to the current conflict in the South China Sea. The discussion was then followed by Muhammad Lutfi, noting that Indonesia could have its own added value by utilizing its free and active politics to make good use of diplomacy with the US and China. Indonesia can remain neutral by advancing dialogue and transparency. Indonesia is in the center of gravity because it has not joined the open and free Indo Pacific concept from the US nor the Belt Road Initiative from China. The last discussion was presented by Andi Widjajanto, observing the current geopolitical condition in the South China Sea through three variables, (1) weapon modernization, (2) energy security, and (3) hegemony transition.
The webinar ended with conclusions made by Alexander Wibowo for Indonesia's important role in the conflict. Indonesia has a strategic position because both the US and China need Indonesia. Indonesia can take the advantage from the two countries by increasing investment through diplomatic approach, particularly energy diplomacy to maintain the country's energy resilience and security in the front and outer regions close to the South China Sea.