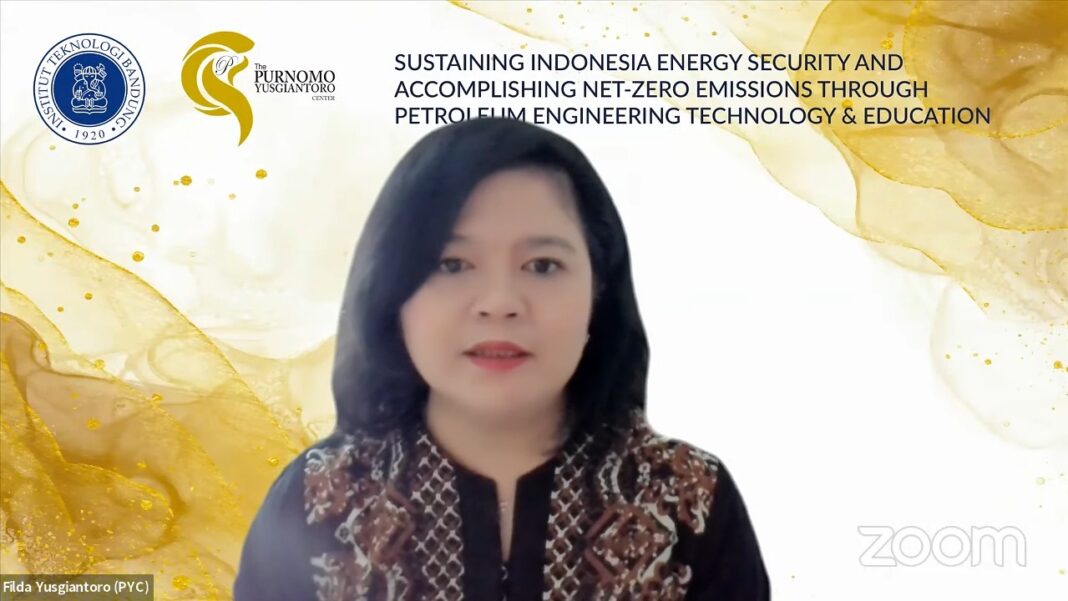 Bandung, 27 November 2021 – Purnomo Yusgiantoro Center bekerja sama dengan Program Studi Teknik Perminyakan, Fakultas Teknik Pertambangan dan Perminyakan Institut Teknologi Bandung (ITB) menyelenggarakan Seminar Nasional bertajuk "Sustaining Indonesia Energy Security and Accomplishing Net-Zero Emissions through Petroleum Engineering Technology & Education". Seminar ini diadakan secara daring pada hari Sabtu, 27 November 2021, dan dibuka dengan kata sambutan dari Rektor Institut Teknologi Bandung (ITB), Prof. Reini Wirahadikusumah, Ph.D, dan Ketua Umum PYC, Filda C. Yusgiantoro, Ph.D.
Dalam kata sambutannya, Prof. Reini berharap produksi minyak dan gas bumi dapat terus meningkat, dan mendukung penurunan impor gas, lalu menekan defisit neraca dagang di sektor minyak dan gas.
Menyetujui pernyataan Ibu Rektor, Filda menyatakan dalam kata sambutannya bahwa produksi minyak nasional akan terus mengalami penurunan jika tidak ada upaya peningkatan cadangan implementasi, seperti enhancement oil recovery, atau penerapan optimisasi teknologi di lapangan. Filda juga menuturkan, dibutuhkan teknologi yang dapat meminimalisir emisi karbon yang dihasilkan dari sektor migas, khususnya minyak. Lalu, pelaksanaan acara ini juga menggambarkan cita-cita bersama PYC dan TM ITB, yaitu pentingnya peran dan kontribusi dari institusi pendidikan dalam meningkatkan produksi minyak nasional dan implementasi Revolusi Industri 4.0, dan Net Zero Emissions. Ia berharap kegiatan ini dapat menjadi wadah diskusi dan bertukar pikiran agar cita-cita luhur ini dapat dicapai bersama.
Acara dilanjutkan dengan keynote speech dari Dr. Ir. Airlangga Hartarto selaku Menteri Koordinator Bidang Perekonomian. Airlangga mengatakan bahwa pemerintah memperkirakan pertumbuhan ekonomi di kuartal ke-4 sebesar 3,5 – 4%. Komitmen Indonesia untuk menurunkan emisi juga sudah diimplementasikan di berbagai sektor, terutama sektor perubahan penggunaan lahan dan sektor energi yang merupakan kontributor emisi terbesar di Indonesia.
Dalam keynote speech berikutnya, Ir. Arifin Tasrif selaku Menteri Energi dan Sumber Daya Mineral (ESDM) menjelaskan perkembangan implementasi energi bersih di Indonesia dalam bentuk roadmap transisi energi menuju Net Zero Emissions. Dalam perencanaan tersebut, Arifin mengatakan pemerintah sedang melakukan pengembangan EBT secara massif untuk mencapai target EBT baru 23% di tahun 2025. Selain itu ESDM juga mendorong penggunaan kendaraan listrik, pemanfaatan battery storage, dan mengembangkan smart grid. Lalu, karena dalam 20 tahun ke depan Indonesia masih membutuhkan minyak dan gas untuk menjaga kemandirian energi, dibutuhkan pemberian insentif untuk menemukan sumber cadangan baru.
Setelah keynote speech, kegiatan ini diteruskan dengan 4 sesi panel dengan topik yang berbeda.
Panel Session 1: Advancement in Enhanced Oil Recovery
(Moderator: Ivan Kurnia, S.T., M.Sc., Ph.D. & Dr. Rani Kurnia)
Jaffee A. Suardin, S.T., M.Sc., Ph.D., Dirut Pertamina Hulu Rokan
Erwinsyah Putra, B.Sc., M.Sc., Ph.D., Member of Investment Committee BoC PT Pertamina Hulu Energi
Ir. Taufan Marhaendrajana, M.Sc., Ph.D., Dosen Teknik Perminyakan ITB
Pembahasan dalam sesi ini mengungkap potensi yang dimiliki Enhanced Oil Recovery (EOR) di Indonesia, dan kemampuannya sebagai solusi ganda untuk meningkatkan produksi minyak, dan mengurangi CO2 di atmosfer. Namun, proses pengujian mekanisme chemical EOR harus dikembangkan dan didukung, tidak dipandang dengan skeptisisme.
2. Panel Session 2: Future Petroleum Engineering Education
(Moderator: Zuher Syihab, S.T., Ph.D.)
Albertus Retnanto, B.Sc., M.Sc., Ph.D, Professor of The Practice Texas A&M University Qatar
Ing. Evita Legowo, Coordinator of Sustainable Energy and Environment at Swiss German University
Ir. Asep Kurnia Permadi, M.Sc., Ph.D, Dosen Teknik Perminyakan ITB
Sebagai respon keraguan terhadap masa depan Teknik Perminyakan, para akademisi di panel ini setuju bahwa Teknik Perminyakan masih dibutuhkan secara jangka panjang. Dr. Evita menekankan bahwa minyak masih merupakan komoditas yang berharga, dan berperan dalam transisi global di sektor migas. Lalu, tidak boleh dilupakan bahwa Indonesia memiliki pendidikan yang maju, terutama di industri geosains, namun kita harus lekas beradaptasi dengan kondisi terkini.
3. Panel Session 3: Digitalization & IOT for Upstream Industry
(Moderator: Dr. Dedi Irawan, S.T., M.T. & Steven Chandra, S.T., M.T.)
Ir. Tutuka Ariadji, M.Sc., Ph.D., Dirjen Migas Kementerian ESDM
Salis Aprilian, M.T., Ph.D., Founder and CEO Digital Energy Asia
Ir. Amega Yasutra, S.T., M.T, Dosen Teknik Perminyakan ITB
Mengikuti perkembangan teknologi, pemanfaatan Artificial Intelligence dan Machine Learning dapat diterapkan di industri migas. Sistem digitalisasi ini memiliki potensi yang luas dan memberikan manfaat yang baik bagi operator dan pelaku kepentingan seperti pemerintah, seperti mempercepat proses pengerjaan lapangan yang manual menjadi lebih efisien dan cepat.
4. Panel Session 4: Energy Security and Net Zero 2060
(Moderator: Ir. Utjok W.R. Siagian, M.Sc., Ph.D. & Budi Sunariyanto, S.T., M.Sc. (PYC))
Ir. Djoko Siswanto, M.B.A., Sekjen Dewan Energi Nasional
Fadli Rahman, S.T., M.Sc., Ph.D., Direktur Perencanaan Strategis dan Pengembangan Bisnis Pertamina NRE
Ir. Doddy Abdassah, M.Sc., Ph.D., Dosen Teknik Perminyakan ITB
Minyak bumi telah menjadi sumber energi utama Indonesia selama puluhan tahun, menjadi tulang punggung ekonomi, sektor transportasi, rumah tangga dan industri di  Indonesia. Negara-negara di dunia telah menetapkan target net-zero emissions pada 2050.  Indonesia telah meratifikasi perjanjian Paris Agreement dan berkomitmen untuk mempercepat tercapainya Nationally Determined Contribution (NDC). Indonesia pun telah menargetkan Net-Zero Emission pada 2060 atau lebih cepat.
Pada sektor energi, transisi energi dari energi fosil ke energi terbarukan atau energi ramah lingkungan dan pemanfaatan teknologi bersih seperti CCS dan CCUS secara agresif, dapat memberikan dampak signifikan untuk mencapai Net-Zero Emission pada 2060 atau lebih cepat. Namun, perlu diperhatikan transisi energi harus dilakukan secara cermat dan terencana dengan baik agar tidak mengganggu keamanan energi atau energy security nasional.
Integrasi studi, teknologi dan implementasi energi fosil dan energi baru terbarukan sangat penting. Dukungan atau kolaborasi lintas sektor dan lintas stakeholders menjadi esensial.