The Minister of Energy and Mineral Resources, Mr. Ignasius Jonan, inaugurated Pertambangan dan Energi Expo 2017 (Mining and Energy Expo 2017) as a celebration of the Ministry's anniversary on September 26, 2017. It was taken place at JW Marriott Hotel, Jakarta for two days. The prestigious event was attended by the Minister of Industry, Mr. Airlangga Hartarto; Head of the Investment Coordinating Board, Mr. Thomas Lembong; Deputy Minister of Finance, Mr. Mardiasmo; Deputy Minister of ESDM, Mr. Archandra Tahar, Founder of PYC, Prof. Purnomo Yusgiantoro, and the Organizing Committee Chairperson, Mr. Ananda Idris. The event also carried out the launch of an online coal monitoring application and a book titled "The Potential of Geothermal in Indonesia Volume 1 and 2 (Potensi Panas Bumi di Indonesia Volume 1 and 2)".
The event was a part of 72nd Anniversary of the Energy and Natural Resources Ministry celebration. The theme of this event was "Justice for People's Welfare and Sustainable Investment". This event was divided into two forms; exhibition and a seminar. The exhibition was attended by various companies in Indonesia that engaged in the mining and energy sectors and also a think tank specialized in energy and natural resources, Purnomo Yusgiantoro Center (PYC).
As for the seminars, there were five discussion panels highlighting on the sub-theme of (1) Renewable Energy and Conservation Energy, (2) Mineral and Coal, (3) Oil and Gas, (4) Electricity, and (5) Cross-Sectoral and Higher Education. The discussions concern various strategies, policies, and governance, as well as development efforts and strengthening coordination between the central government, the local government, and stakeholders. It aimed to build a mutual awareness to strengthen government policy in energy and mining and to get breakthrough efforts to improve the investment climate in the mining and energy sectors. Regarding this event, PYC has a privilege to publish the seminar proceedings.

Picture 1. From left to right: Deputy Minister of Finance, Mr. Mardiasmo; Head of the Investment Coordinating Board, Mr. Thomas Lembong; Minister of Industry, Mr. Airlangga Hartarto; Minister of Energy and Mineral Resources, Mr. Ignasius Jonan; Deputy Minister of Energy and Mineral Resources, Mr. Archandra Tahar; Founder of PYC, Prof. Purnomo Yusgiantoro, and the Organizing Committee Chairperson, Mr. Ananda Idris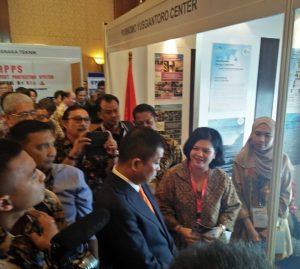 Picture 2. Minister of Energy and Mineral Resources, Mr. Ignasius Jonan made a visit to PYC booth at the Mining and Energy Expo 2017